Welcome to another end to your work week.  It was a cold, wet week in Virginia and we are looking at snow for the weekend so I'm not sure it's getting better!  For this Friday Favorites I'm all over the map, from J.Crew striped yumminess to a new designer at Nordstrom.  One preppy the other edgy … both good!  #ReallyGood  I also have an upcoming giveaway announcement and the weekend sales round-up. (neither which you want to miss).  If you are on the hunt for something or stymied on how to style a piece drop me a comment or a DM.  #HappyToHelp
Friday Favorites
This week's obsession is brought to you by J.Crew.  You know I love stripes (I have a closet full of them).  You know I love separates that look like dresses.  This is the magical combination of both in a great mix of colors.  Now I just need some warmer weather to be able to wear it!!  #SpringPerfection
I purchased this over the weekend when I made my own little J.Crew sale with a discount coupon I had left over from the Holidays.  It is every bit the beauty it appears.  The skirt is fully lined (how big a bonus is that)!!  It is now also 40% off with the current J.Crew sale – you will need code YESPLEASE.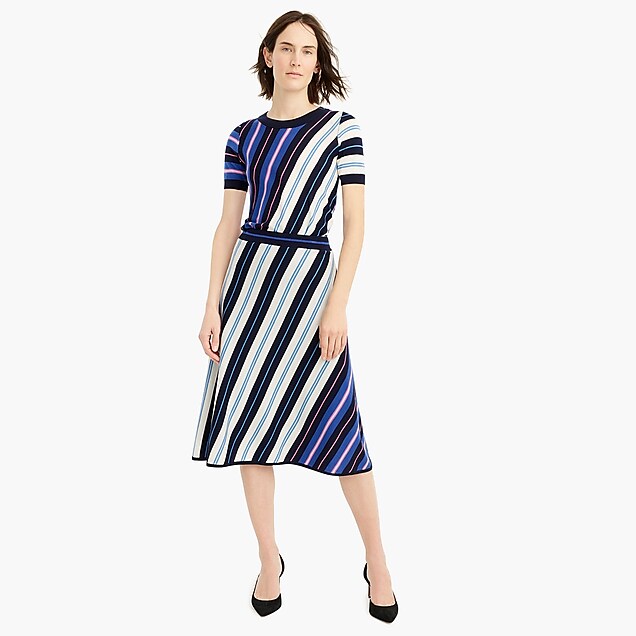 J.Crew Merino Wool Sweater and Skirt
ANINE BING @ Nordstrom
Did you see the news that Anine Bing is coming to Nordstrom.  I guess technically she is already there.  #LateToTheParty.  Her style is "wearable edge" – and I love it!!  #TotallyMadeThatUP Her pieces aren't always for the office … I do have a red suit from her that always makes me feel POWERFUL that I wore this week and look at the blazer below (I ordered it).  They are pieces for making statements!!  In order for me to wear this blazer I am also going to need a cami underneath (lacy or plain) but it will still be gorgeous.  Just a little less "eye" catching.  And while I could NEVER wear them to work … her leather leggings are also on my list.  Wowza!!  #DateNightWin
Blazer | Lace Cami | Cami | Leggings
Monday Giveaway
It's monthly giveaway time!!  At least it will be on Monday …. check the blog, Instagram and Facebook for a Giveaway announcement and all the ways to enter.  If you struggle with getting dressed in the morning … this is the giveaway for you!!  #OneYearOfStyle
Weekend Sales to Shop
ANN TAYLOR – Take 40% off select full price items with code SOSWEET.  Valid through 2/18.
BLOOMINGDALES – Save an extra 20% on almost all already reduced items. Valid through 2/18.  I'm eyeing these Reiss sandals!
J.CREW – Take 40% off select full price items with code YESPLEASE.  Valid through 2/18.  I recommend the stripe two pieces above.
NORDSTROM – Save up to 40% on select styles and brands (through 2/24).  The whole outfit above was created from the sale.  Grab some cool accessories (it's a great time to snag designer sunglasses at 20 – 40% off), add a classic blouse and midi skirt, pick the shoes that match your mood and SAVE!! I created a mini-widget for everything I'm shopping!
NORDSTROM Rack – So many new arrivals from Nordstrom on sale!!  DVF, Reiss, Rag & Bone, BOSS … all the good brands!  I am not even begin to show you what I'm shopping there … the deals are good though!
SAKS FIFTH AVENUE  – Take an extra 20% off select Stuart Weitzman styles with code EXTRA20.  Valid through 2/18
Have a great weekend!!
Want to be the first to know or to get more work wear inspiration subscribe to the Newsletter for insider style tips and more.
You can also Follow me on Facebook , Instagram or Bloglovin for even more work wear style inspiration.