It's Friday!  I hope your are as ready for the weekend as I am.  My goal this weekend is to finish the process of getting the unwanted items from my closet out of the house!!  I have one one last eBay and Facebook Marketplace push and everything left next weekend is either going to Thred Up or Goodwill.  And it hasn't just been my closet we have been cleaning … we also emptied the attic and two closets in the basement.  We have been in MAJOR purge mode since the Holidays and it feels so good to pass along items we are no longer using!  It's also fairly amazing how many things one household can accumulate in ten years!! But enough with that … let's get on with Friday Favorites. A gift guide to make you a #HolidayHero next week.  A new brand of shoes that have my heart. And the new department store I've been shopping more and more.  There is also a weekend sale round-up at the end.  #HappyFriday
Because It's the Friday before Valentine's Day
If you missed my Day to Night post on Thursday then you might not realize the Holiday of love is coming up fast and furious.  Next Thursday will be here before you know it!!  Did you procrastinate on your Valentine's Day purchases?  Amazon has your back with free Two-Day Prime Shipping and Gift Guides broken down by category.  You can still be a hero, but only for a few more days or even Prime shipping can't save you!!  #BeTheHero
What I'm Currently Shopping For
If they are good enough for a princess (Megan Markle) and Amal Clooney then I think they are good enough for me.  A reader asked me about Sarah Flint shoes and I'm now on the hunt.  I tried these BEAUTIFUL (yes, they require yelling) red snakeskin and suede sandals but they are a half size too small.  #Truth – I almost kept them anyway because they are so gorgeous! Does anyone else keep shoes that don't fit simply because they are too pretty to let go?  If you have any 39.5 that you are looking to part with … I'm your girl. (I'm apparently not your 39 girl). #SomeoneElsesLuckyDay
When I do manage to finally track down an appropriately sized pair you can expect a full review of the good, the bad and the fit.  #NotTheUgly #DefinitelyNotTheUgly
My New Love for Bloomingdales
Let's be clear, I'm a Nordies girl … BUT lately I have been finding myself more and more frequently standing in an Bloomingdales.  At first I felt like I was cheating on Nordstrom but now it feels perfectly normal to be shopping from both.  Initially it was there in store selection of Guerlain (my new lipstick love) that first got me in the store, but it was their Holiday sales that kept me coming back … such good prices!  But you know what else?  Their loyalist program rivals Nordies and their house brands are good … I mean really good.  How much does that first Aqua dress look like the Saloni one I wore in Miami?  But it's $88.  $88.  #Seriously  And I'm buying this sleeveless blouse in all four colors – such a great suit layering piece for $58 (currently $46 in their sale going on now!!).  Just looking at the Bloomingdales Exclusives I was able to create two weeks worth of office worthy outfits.  #TwoWeeks
And they have stuff for fun too – like this swoon worthy red dress for that I need to find somewhere to where stat!  Pair with the leather moto and date night is done!!  #DoneDone
This widget has everything from the two images above linked plus a whole bunch more.  Veronica Beard look-a-like jackets, Rebecca Taylor suit and layering staples.  Note:  Some of the items are showing Sold Out in the widget but that is not the case, if you click the link sizes were fully stocked!!   
Weekend Sales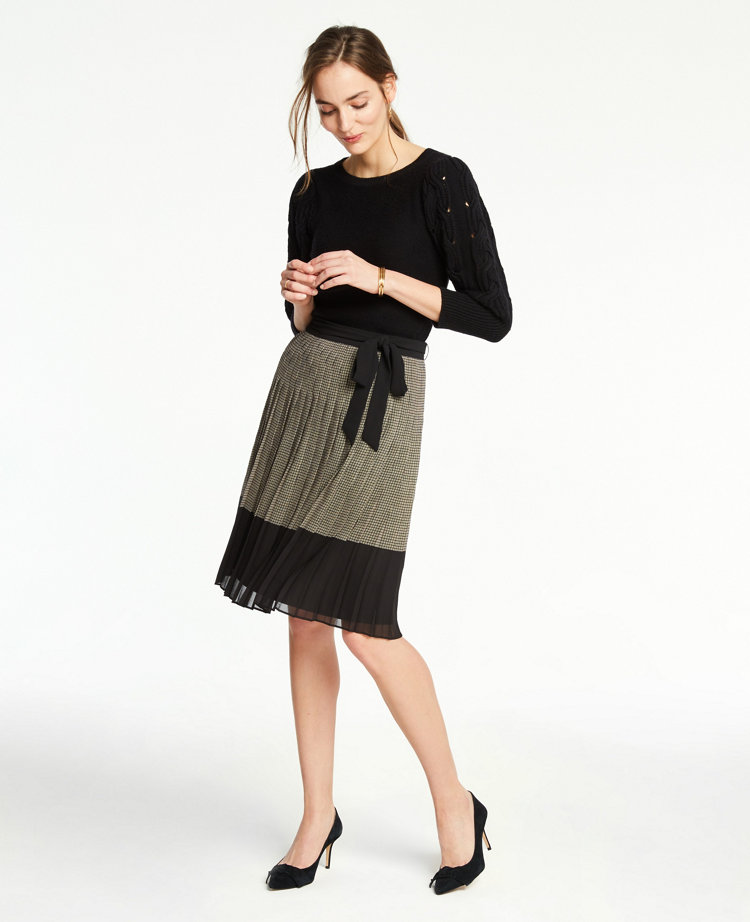 ANN TAYLOR – Take 40% off select full price items and additionally off sale items with code SHOP40.  Valid through 2/11.  This plaid skirt is currently sitting in my cart.
BLOOMINGDALES – Take 20% off items labeled with promo code LOVE. Valid 2/8–2/14.  Check my latest loves above to see what I'm buying!
LOFT – Take an extra 40% off sale styles. Valid through 2/9.
MACY'S – Take 20% off your entire purchase with code LOVE. Valid 2/10-2/14.
NIEMAN MARCUS – Enjoy $50 off your $200 beauty purchase. Valid 2/7-2/8.  It's a took time to stock up on lotions and potions!!
NORDSTROM – Nordstrom added so many more items to their up to 50% off winter clearance.  You can shop all my picks here!
SAKS FIFTH AVENUE  – Up to $150 OFF Women's Denim with code DENIM19.  Valid 2/7 – 2/10.  I'm eyeing these MOTHER jeans perfect for Spring.
Have a great weekend!!