Today I'm doing a quick review of Infinite Style by Ann Taylor.  What is this?  Think of it as a brand name version of Le Tote or Rent the Runway Unlimited.  It is an online monthly subscription rental service that gives you access to hundreds of Ann Taylor looks for one flat fee. It works on a set-of-3 concept and allows their closet to become your closet. Subscriptions include unlimited shipping and exchanges for a flat monthly fee of $95.00, plus taxes if applicable.  Intrigued?  Read on to learn more and see everything I received in my first month.
How it Works
Rent
Sign up and fill your online closet with at least 20 items.  You can also (and should) prioritize your favorites.  Three pieces will be delivered to your door in each shipment. In each shipment I received at least one of my priority items but not all three.  As soon as they arrive, rip open the box and try everything on.  Wear the pieces as often as you like.
Return
When you're ready, send all the items back (or keep them at the best sales price). Shipping is free both ways.
Repeat
Exchange as often as you like.  This allows you to create and unlimited wardrobe.  I was able to complete three exchanges in my first month.  My first shipment was the slowest.  The other two were turned around in a matter of days.  You can mark your items as returned and this starts the exchange process before your pieces even make it back to the warehouse.
Overall Infinite Style has been a good value.  I certainly wouldn't purchase 9 pieces at Ann Taylor to keep in a month so with an average cost of $10 per item it was worth it for me.  It also let me try some trendier pieces without committing to owning them.  Curious, give it a try for a month.
Create an ultimate wardrobe with unlimited exchanges and free laundry. Only at Infinite Style by Ann Taylor!
*Infinite Style by Ann Taylor caters to subscribers throughout the USA. We offer women's sizes 00-14, XS-XL, 00-14 Petite + XS – XL Petite.
My Infinite Style Keepers
So what pieces did I get in my first three boxes?  See all nine pieces below with styling notes and even some fun pictures.  I wish I had taken a few more pictures.   First up is the keepers that won my heart and then I will touch on the pieces that didn't win me over.  #WinSomeLoseSome
I loved this little blouse.  I wore it paired with my Vernonica Beard jeans and a knit cardigan (similar).  I normally wear a Small but I had this in a Medium and the fit was great.  This is one I would consider purchasing especially now that it is only $30.
I tried both the pearl skirts (Pencil and A-line) and they both ran large (I'm holding the back in the picture).  I had a four in both but need a two.   The A-line is now $35 and the pencil is no longer available online.  Sized correctly though it would have been a keeper!!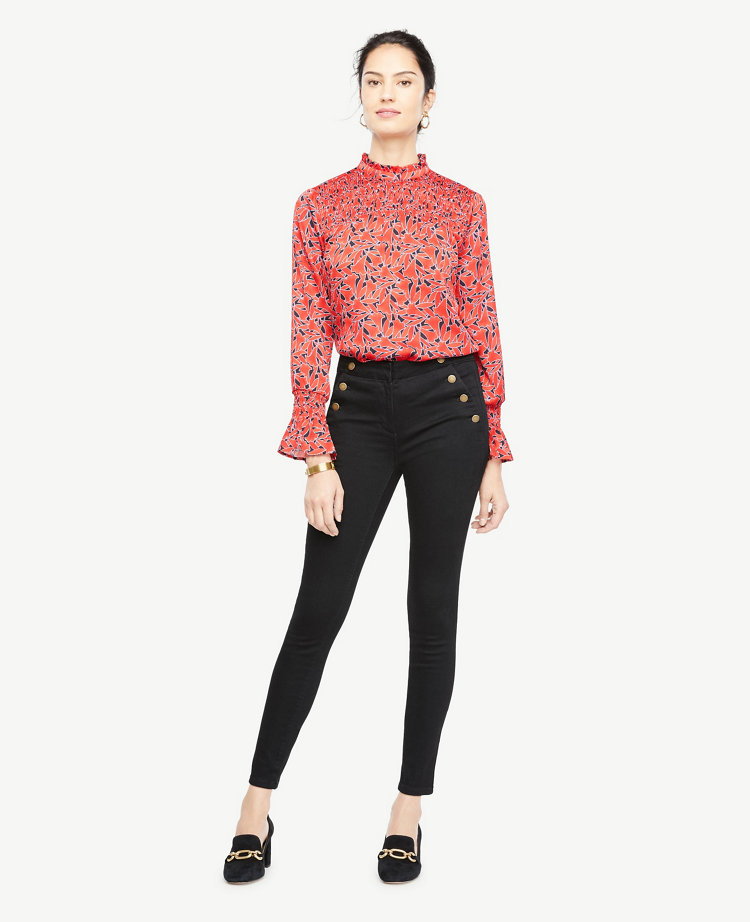 These jeans were amazing and because of the stretch the sizing was a little more forgiving.  I am wearing my usually size four.  Currently a bargain at only $40.  Update:  Now sold out at Ann Taylor but you can find similar from LOFT.  
This dress was a keeper but I can no longer find it online.
I really liked these but I am in between sizes in AT pants.  I ordered these in a 2 knowing the 4 would be too big but the two was just a touch to small.  I am still undecided on if I get these in a four and have them altered or invest in the Theory ones that I also like.  #StillDeciding  They come in two cuts … classic and curvy.
My Infinite Style Returns
I loved these pants but had them in a four and they were too big.  It wasn't big enough love to purchase them at full price and get them altered to fit but I would reconsider at a great sale price.
This was too small and is no longer available to purchase in the larger size (or any size for that matter).
My Next Infinite Style Box
Here is what I have my eye on for my next box!  (I'm on the hunt for some new denim if you hadn't noticed).  Look for some social media updates when they arrive!!
Curious or want to know more?
Create an ultimate wardrobe with unlimited exchanges and free laundry. Only at Infinite Style by Ann Taylor!
To be the first to know or to get more work wear inspiration subscribe to my Newsletter or Follow me on Facebook or Instagram.
The opinions posted here are solely my own and I was not compensated in any manner for this review.