Every change of seasons I track the trends, decide what I love, inventory my closet and create a list of my must gets.  A few weeks ago I did a post on Spring shoe trends and after applying my process, I realized I either didn't need … or didn't want any new shoes for Spring?!? #SayWhat
Many of the trends I already have covered … statement prints?  Check.  Coral?  Check.  Buckles? Check and check.  #OkayIWillStop
Many of the trends aren't the most office friendly … beach baubles? Hard to pull off with a suit. Bedazzled. Ditto (but also check).  #HMMM
No new Spring shoes?  How can this be?  That is seriously not an option.  So I looked again.  #OfCourseIDid
Turns out what the fashion gurus predict isn't always the be all end all. #MoreToTheStory
My Spring Shoe Trend Surprises
Faux Croc Print
It story starts with these loafers. I had them on my feet while shopping MM.LaFleur during my last visit.
I had them on my feet in black.  You can no longer purchase them in black.  #AHuntingWeWillGo
So I found these from Zara … in brown.  Better.  Still not black. #StillHunting
What I quickly realized with all this hunting though is that croc (yes faux) is currently everywhere. Remember the Topshop Shoesday Post? It included two lovely faux croc print heels.
These lovely loafers? Also available in Pink Croc Print.
You see where I am going. They may not be on all the trend lists … but they are definitely trending. And they are now on my list.  What else is on MY list?
Tortoise
I'm sure you aware of the current tortoise earring and accessory craze … but what about shoes? Again I had inspiration … #AlwaysInspired
Ever since a reader asked … and I researched … I've been trying to get my hands on a pair of Sarah Flint shoes. I had these too small beauties on my feet briefly but since then. Nothing.  Nada.  I've been trying to find them pre-loved to save some mullah.  And then I got an email from Sarah Flint showcasing those tortoise beauties. It was all I could do NOT to buy them immediately. How gorgeous are they??
So I again did some hunting.  This time for tortoise. There are choices. Not tons … yet. But I predict more are coming. Searches for tortoise on Pinterest are up more than 700%. Most are probably still searches for earrings and necklaces but it won't be long before shoes catch up!
I've had these tortoise heel lovelies for a bit but now I'm looking for all tortoise!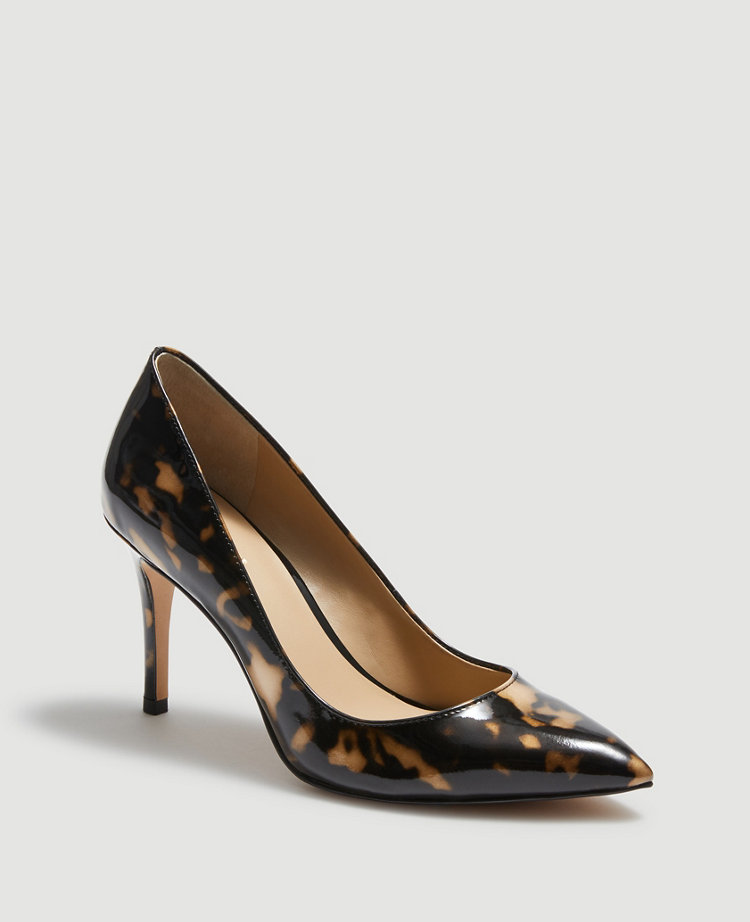 I ordered these from Ann Taylor this weekend.
And I tried to order these from ASOS today but they no longer had my size (but they all the other ones). I'm hoping one of these scratch the itch and don't send me running back to the Sarah Flint ones ASAP. #FingersCrossed
Transparent Shoes
And for my last obsession turned trend I give you these …
I will let you drool for a minute. #NotOnYourKeyboardPlease
I've been stalking these for awhile. Then these made an appearance last Fall. #SoClose
But now I'm seeing vinyl everywhere. From transparent sandals to boots to more variations of the Rossi I fell in love with.
Until I can score the Rossi (at a price I'm willing to pay) I grabbed these from Zara. This will let me play with the trend and either cement or quash my desire for the real thing.
So those are the three shoes on my secret Spring shoe trend list that gave me an excuse to purchase new Spring shoes.
How am I going to style them? I'm glad you asked.
Styling Faux Croc Print
Shoes aren't any fun if you can't wear them for both work and play.  For all three trends I opted to style them for "Day" and "Date" with a beautiful dress for each.  These first two dresses are simply fun and fit with they playful vibe of the light pink loafers.  #FunFirst
Boden Dress | DVF Dress | Madden Loafer
Styling Tortoise
While the Tortoise will look beautiful with cream or black I feel like a jewel tone could really make them pop!  I opted for classic navy but any jewel tone will work.  For date night not only did a choose a more vibrant color (and shorter hem) – I found one that pulls in the tortoise with a matching accent ring!  #TotalWin
Navy Sheath | O-Ring Dress | Tortoise Patent (or you can splurge and get this DVF Pump that is both tortoise AND translucent)
Styling Vinyl
For the office think classic sheath but for play I went all in on fun with a nod to the feathers trend!  #TooCute
Plaid Sheath (on sale) | Feather Shift | Translucent Pump (Under $70)
Shop More Spring Shoe Trend Surprises
These are all emerging trends so the selection is somewhat limited but I did find at least 10 options for each trend in all price points!!