It's finally the month of Spring. To say I'm excited would be an understatement!! I'm beyond excited for Spring but I'm also excited for some of the March blog content!!  I have tons of fun scheduled! There is the Rothy's Sneaker review (and with it a Rothy's giveaway)!! The long awaited updated MM.Lafleur review.  Starting in two weeks, I have a whole week of Spring Trends scheduled to post – that's the same week as Nordstrom Triple points time and it is no coincidence! Newsletter subscribers will learn how to style wide leg pants as well as pastel suits (both big trends for Spring). And so much more!!
But now about my Friday Favorites …
One Shoe, Two Shoe, Snakeskin, Blue Shoe
I just ordered these Jeffrey Campbell cuties from Nordstrom Rack for less than $70!! I almost ordered all three but stopped with just the two snake options (#ClosetFullofLeopard).
Such a great price for such a versatile shoe! Snakeskin is a trend for Spring that you are going to see everywhere (not just shoes).  Need some style inspiration? I will style mine as soon as they arrive but here are some great ideas ….
Don't be afraid to mix your patterns, the gingham and stripes are perfect examples.  Go all in with one color like blush or tan (both big for Spring) and let the shoes shine!  And black and white is always a classic (this would be perfect with the leopard or the blue snake print loafers)!
My Last Week of (Major) Closet Clean Out
I've talked about my ongoing closet clean out project before.  And while it is a project that will never be done-done, this is the last week for this phase. I ordered one more package of hangers as well as a cool shoe slider to better store my heels.  I also scheduled one last round of eBay (starting this Sunday everything left will be reduced to $5 (including Paige Denim, a Ted Baker Blazer, Boden skirts and blouses and some other great finds).  If they don't sell this week then the donation bag is off to ThredUP.  If you want to take a look my seller name is shatonkwa (the prices for any current listings will also be adjusted to $5 on Sunday).  #BargainHunting
Look for a full closet reveal on the blog soon as well as a discussion on my clean-out process. (Hint: I did not go all Marie Kondo on my closet but she did spark the process). #SeeWhatIDidThere
Sales to Shop this Weekend
Where I'm shopping and what I'm buying this weekend!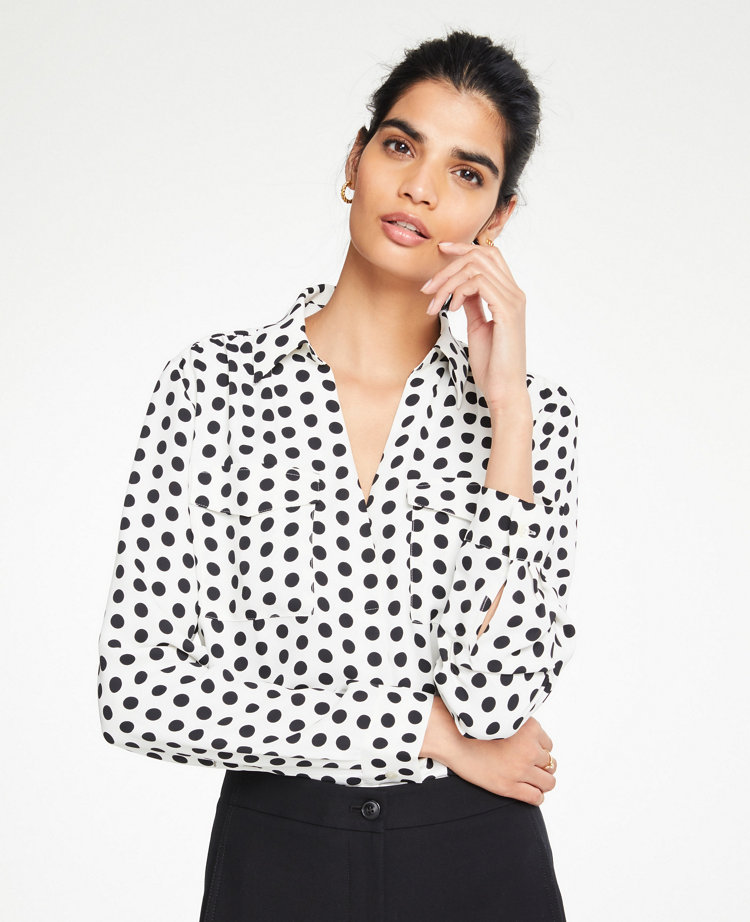 ANN TAYLOR –  50% OFF FULL-PRICE TOPS & SWEATERS as well as sale styles with CODE: TOPITOFF.  I had to add this polka dot camp shirt to my collection!!  I also loved this black with white dots one!  Both $35.
ANTHROPOLOGIE – Take an extra 40% of sale (this weekend only).  Snag this Maje red dress I picked up a few weekends ago for only $54.
BLOOMINGDALES – FASHIONABLE FUNDRAISER GIFT CARD OFFER! Get a $25 Gift Card when you spend $150-$249, $50 Gift Card when you spend $250-$399, $100 Gift Card when you spend $400-$499, $125 Gift Card when you spend $500-$999, $250 Gift Card when you spend $1,000-$2,499, or a $750 Gift Card when you spend $2,500.  I may have to finally break down and get these Tory Burch pumps I have been eyeing.
J.CREW – They are always having some sort of sale!!  The March collection is good but I haven't taken enough time to really digest the best of the it!  Send me what you are shopping!!
MACYs – Take 25% off select styles at the Hit Refresh Event.  Valid 2/28-3/3.
NET-A-PORTER – Take an exclusive 15% off shoes with code SHOPSTYLE15.  Valid 2/28-3/10.  Such a dangerous sale for me to browse … I see you Fendi beauties!!  #ICant
NORDSTROM Rack – So many new arrivals from Nordstrom on sale!!  DVF, Reiss, Rag & Bone, BOSS … all the good brands!  I ordered a new suit, the loafers I mentioned above and a pair of lilac pumps.
SAKS FIFTH AVENUE  – Receive a gift card up to $100 with code SAVINGS OR earn a gift card up to $750 when you shop shoes or bags with code SH2019. Valid through TODAY!!
TARGET – Buy one, get one 50% off on all swimwear, plus receive up to an extra 25% off home items.  Valid through 3/2.  I ordered two suits for my upcoming warm weather trip!
SHOPBOP – There annual Buy More, Save More preseason sale is going on now through tomorrow!  I'm thinking of adding this tweed blazer to my collection … or maybe the olive green one … or they grey one.  (I have this exact blazer in black and I love it).
Have a great weekend lovely ladies!!
Want to be the first to know or to get more work wear inspiration subscribe to the Newsletter for insider style tips and more.
You can also Follow me on Facebook , Instagram or Bloglovin for even more work wear style inspiration.